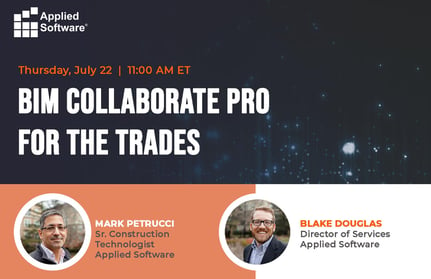 Thursday, July 22 | 11:00 AM ET
Do you work in the trades? Have you tried BIM Collaborate Pro? You might want to give it a shot. When you connect people, workflows, and insights in the cloud, you can co-author in real-time, use project data to make informed decisions, and get teams on the same page. With data at the center, you can deliver better quality, more constructible designs, made possible by BIM Collaborate Pro (formerly BIM 360 Design).
If the idea of an efficiently working and well-connected trades team sounds pretty awesome to you, make sure to tune into our fun and informative webinar about BIM Collaborate Pro for the trades. We'll discuss:
Cloud hosted common data environment

Document management for designers, engineers, contractors, and owners

Tracking of issues

Co-authoring in Revit, Civil 3D, and Plant 3D, (Any AutoCAD product)

Review & coordinate design projects

Package review and distribution

Automated clash detection
See you there!