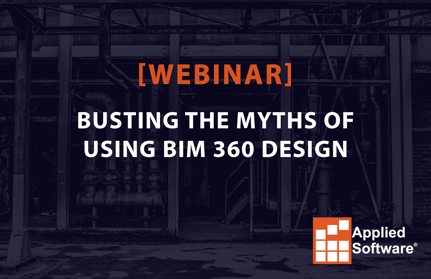 Thursday, November 5 | 12:30 pm ET
If you've ever used BIM 360 Design—or considered using it—you know it is a powerful collaboration tool. But with every powerful tool there are some misconceptions, even myths. Join the conversation as Rick Kremer uncovers and dispels the top 5 myths people have about BIM 360 Design.

Myth 1: Using BIM 360 Design increases time spent on a project

Myth 2: BIM 360 is no different than using Dropbox or any other cloud storage service

Myth 3: BIM 360 Design requires a super-fast internet connection

Myth 4: I'll just wing it, I don't need any training on how to use it

Myth 5: My Civil 3D guy can't truly collaborate since they're using an AutoCAD based program
Todd Weyandt, host of the Bridging the Gap podcast, will be joining as our guest host in this interactive broadcast. Bring your BIM 360 Design questions and misconceptions and be ready to join in on the conversation. You might even win a gift card.