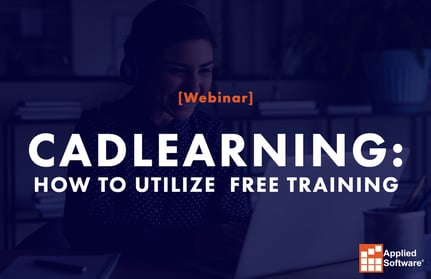 Thursday, September 24 | 12:30 pm ET
Not enough time in the day to learn to use your software better? We all wish there was a more streamlined way to get everything done--but maybe there is. Get back to work fast with answers to your Autodesk product questions right when you need them, day or night. Learn how CADLearning, the most comprehensive Autodesk learning library, will help you stay on track and make you more productive. We'll show you:
How to navigate the CADLearning platform and access over 35,000 microlearning lessons on 50+ Autodesk products.

How to take quizzes, access exercise files, build hyper-personalized, targeted learning paths specific to your gaps and help you achieve 100% retention.

How to manage your profile to see just the libraries you want to see.

How CADLearning Assist can provide in application just in time learning.

How CADLearning goal-based learning can help you attain competencies in 20 minutes or less per day.
In addition, for those of you managing teams or organizations with many Autodesk users, we'll show you how you can upgrade to your own private CADLearning portal and get access to:
Analytics and reporting tools.

Custom content creation tools so you can tailor CADLearning to your organization's needs.

Custom assessment tools including pre-hire assessments.