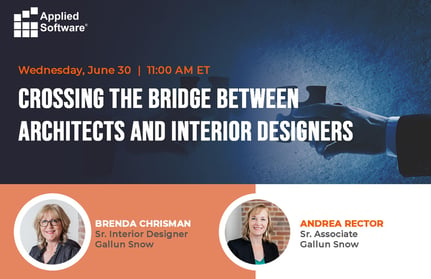 Wednesday, June 30 | 11:00 AM ET
If you're an interior design consultant or an architect, you probably notice the disconnect between the two groups. Are you interested in helping both sides understand how to collaborate better? Maybe improve coordination between teams? We thought you might.
Join our upcoming webinar, where we'll highlight the collaboration and technical workflow challenges in Revit and BIM Collaborate (BIM 360) that leading interior firms face when working with architects and owners. During the presentation, Andrea Rector and Brenda Chrisman of Gallun Snow will share some helpful tips and tricks for better coordination and explain what interior designers need to know from architects. See you there!
About Gallun Snow
Gallun Snow is an award-winning and nationally recognized Interior Design Firm. Since 1988, their innovative design solutions have been informed by evidence, inspired by creativity, and envisioned through technology. The firm specializes in designing for healthcare, learning, civic/community, and church/worship spaces.