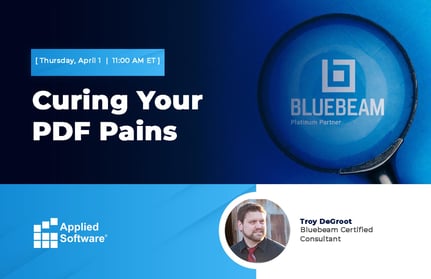 Thursday, April 1 | 1:00 PM ET
Are your PDF drawings an absolute mess? As in: there's no naming convention, nothing is linked and everything's out of order?
In this quick and exclusive webinar with Troy DeGroot, rest assured that we'll go over how to fix all those pain points and more.
You'll also learn about:
Meet Troy DeGroot
With over 20 years as a Detailer, Designer and BIM Manager prior to teaching, Troy DeGroot has cultivated a deep understanding of the requirements of customers, the needs of end users, common goals of management, and the capacities of Bluebeam technology. As a Bluebeam Certified Consultant, Bluebeam Certified Instructor and Implementation Specialist, Troy increases productivity for Project Managers, predictability for BIM/VDC Managers, and maximize software usage for CEO/CIO's.