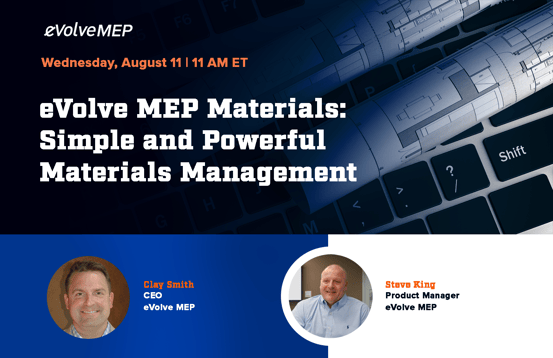 Wednesday, August 11 | 11:00 AM ET
Currently, bills of material are being built from at least four different sources. One comes from the design model, another from the project manager for bulk items, a third from the fabrication team, and at least one more comes from foremen in the field for non-modeled items. These bills of material are not shared among departments. This results in constant rework, duplicate efforts, and waste.
eVolve MEP Materials brings together all departments around a single source of truth that is updated real time. The design model material is accessible to all parties, and delivers accurate counts based on actual layouts. Further, contractors can order and route materials based on spool and production drawings from eVolve Electrical and eVolve Mechanical.
Interested in finding out more? Join our exclusive webinar to learn everything you need to know. You'll learn how:
Project managers can purchase major equipment packages out of the same system to better manage and schedule material releases.

Field foreman and fabrication managers have early access to the bills of material that come from the model. This allows them to organize, kit, and plan production based on the planned installation sequence.

Field foreman can order additional non-modeled items directly from a mobile device, release bulk item purchases, and receive incoming deliveries.

The purchaser benefits from a digitized, standard format that yields accurate product descriptions, manufacturer catalog information, and accurate counts.

The purchaser gets real time receiving information and backorder notifications. All of this is done in the system, without calling or emailing.