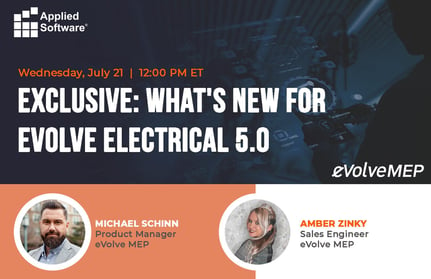 Wednesday, July 21 | 12:00 PM ET
eVolve MEP is the leading MEP construction software for Revit, providing solutions that increase MEP contractor efficiency inside while reducing cost and risk. Recently, a brand-new update for eVolve Electrical was released—so what should you expect?
During this webinar, Michael Schinn and Amber Zinky will walk you through the ins and outs of the eVolve Electrical 5.0 and show you everything you need to know. Join us to be one of the first to get the scoop, and come prepared with questions! See you there.