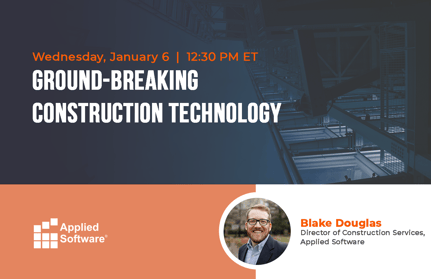 Wednesday, January 6 | 12:30 pm ET
2020 has presented many challenges that have never been faced before: temperature checks, mask mandates, social distancing, limited operational time schedules, and even full closures, all of which have had a great impact on businesses across the US. But with these new limitations on how we work comes a great deal of innovation.
We see this in companies of all different types that pivot their business models to provide what the public needs. There has been a great demand, and the market came to the call for supply. Ventilators, hand sanitizer, fashionable masks: you name it, we've adjusted and have done it very quickly. The same can be said of the construction industry.
Known for being a laggard in technology adoption, the construction field has adapted as quickly as possible, leading to many great, innovative solutions for modern issues. In this webinar, we'll discuss what ground-breaking tech changed 2020 for construction and where it is all headed in 2021 and beyond. We hope to see you there!