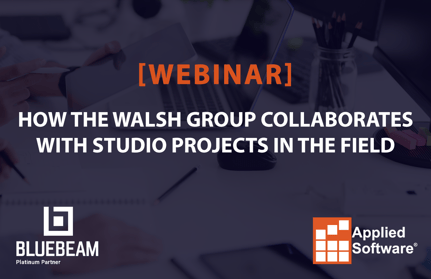 Wednesday, November 11 | 12:30 pm ET
Digital drawings are great for the office, but what about the field? According to Pablo Giraldo, Assistant Technology Manager for The Walsh Group, that depends on how the drawings are set up. During this presentation, Pablo will walk you through loading drawings into a Studio Project and navigating those drawings in the field with Revu for iPad. Pablo's step-by-step approach will teach you how to set up the drawings within your Studio Project and create a quick field dashboard for easy navigation in the field.
Key Takeaways:
Streamline your Bluebeam usage from working in house to on the job site.

Reduce rework by tapping into Bluebeam from anywhere.

Structuring Studio Projects to increase productivity in the field.
He'll show you how to:
Grab the latest set of drawings and load them into the Studio Project.

Bookmark the set of drawings.

Batch link the drawings.

Add special markups and buttons to hyperlink shop drawings to them.

Create studio groups and give access to subs, project admins, or field engineers.

Create a field dashboard.

Navigate the set of drawings with an iPad in the field.