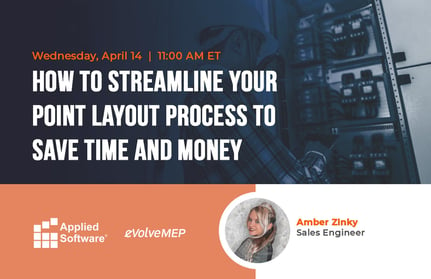 Wednesday, April 14 | 11:00AM ET
If you're interested in efficiently detailing, fabricating, and constructing your electrical projects, eVolve Electrical is the perfect solution. With standardized content including kitting, spooling, hangers, and more, eVolve Electrical is certain to make your transition to Revit easier, more efficient, and much more effective.
During this webinar, eVolve MEP Sales Engineer Amber Zinky will walk you through the whole process of creating a point layout drawing in eVolve Electrical and show additional features like families, parameter sync, placing hangers, and family sync. Join our exclusive webinar to learn more!