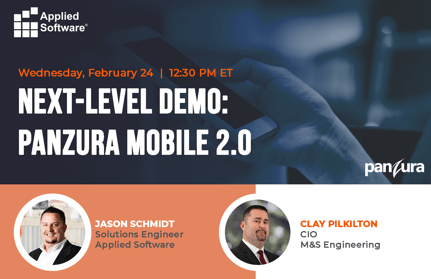 Wednesday, February 24 | 12:30 PM ET
In this exclusive webinar, Jason Schmidt, Solutions Engineer at Applied Software, and Clay Pilkilton, CIO of M&S Engineering, will show you the best capabilities Panzura Mobile has to offer in real-time, including how to share and access data from a remote location and how to share files with external contractors.
Whether your people need to share or access live data from home or on the road, Panzura Mobile lets them do just that from any device they have with them.
If you have Panzura but your users are still sharing files using DropBox, Google Drive, or Box, they might be creating duplicate files and making it more difficult for IT teams to manage access. Now, you can expand access to your global file system to field workers, construction admin, and work-from-anywhere users, securely using your primary data.
Applied Software is the only Panzura Reseller who can support demo, installation, and POC for Panzura Mobile. We hope you join us!