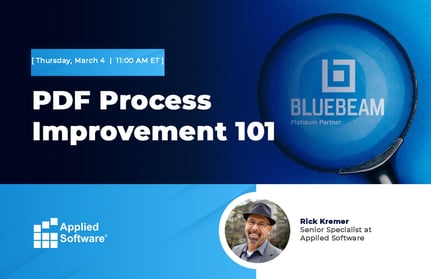 Thursday, March 4 | 11:00 AM ET
Is your Bluebeam project taking you absolutely forever to complete? Take our advice and stop letting your process slow you down. Take control of document management with helpful advice about working with PDFs from Bluebeam guru Rick Kremer. During this webinar, Rick will offer tips and tricks on:
Working with PDFs created as separate file.

Combining PDF files.

Adding page labels.

Creating hyperlinks to all pages.
Whether you're a Bluebeam power user, a novice, or if you haven't started using Bluebeam yet, you'll discover ways to improve your PDF process. We hope to see you there!