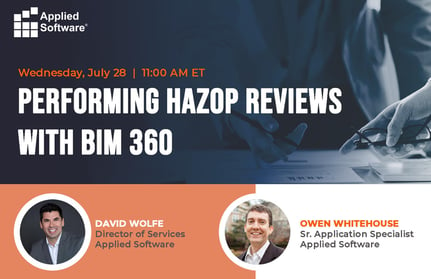 Wednesday, July 28 | 11:00 AM ET
If you're familiar with the process of performing a hazard and operability (HAZOP) review, you know how intricate and important each and every step is. With BIM 360, you're able to streamline some of that process. In this upcoming webinar, we'll give you tips on:
Accessing a project in ACC.

Defining markup color coding.

Generating Equipment Lists

Power Consumers

Process Safety (PRV, RD, overflows, emission points), and

Issues Creation Workflow.
Curious about doing Hazop Reviews through BIM 360? Join David Wolfe, Owen Whitehouse, and Buddy Legnon to learn everything you need to know. See you there!