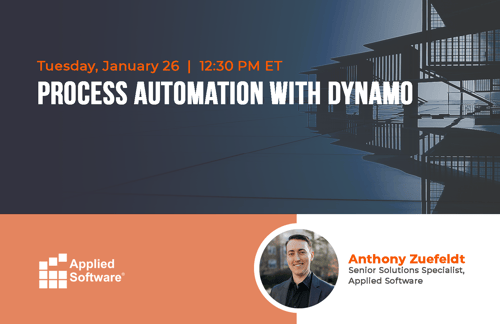 Tuesday, January 26 | 12:30 pm ET
Dynamo is one of the fastest-improving programs in the AEC space-- its unique blend of open source community development and a dedicated dev team at Autodesk propel vast improvements in the application year to year. As Dynamo evolves, new opportunities for meaningful improvements to new and existing workflows arise.

Join Dynamo junkie and automation expert Anthony Zuefeldt of Applied Software to explore some of his recent projects involving Dynamo for Revit with Forge and Plant 3D. From using automation tools to powerful generative design solutions, Anthony has been busy in the last year working with clients to push the boundaries of what is possible in the AEC and MFG spaces. This webinar will examine some of these projects and how recent improvements to Dynamo helped facilitate these project's successes, while looking to the future Dynamo to speculate on its increasing importance in the industry.