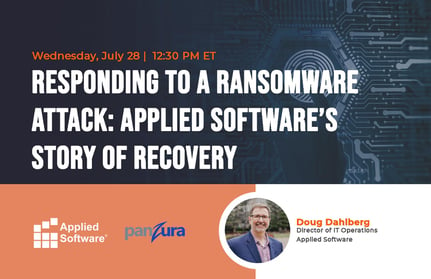 Wednesday, July 28 | 12:30 PM ET
At 6:11 PM, when Applied Software was hit by a Ransomware attack, we lost 11 total minutes of production. Data was recovered through Panzura and was back up and running in no time.
Chances are you've heard the names. Colonial Pipeline, JBS, Kaseya, SolarWinds. The Ransomware "Pandemic" has exploded into the national news over the last 6 months. Attackers compromise the network, encrypt the data and demand payment to unlock the files, and this can happen to anyone.
Join us for a special look at how Applied Software survived a Ransomware attack and quickly recovered its compromised data and resumed normal business activity. Our own Director of IT and Digital Transformation, Doug Dahlberg, will share the Applied Software story and provide ways that your organization can prepare for and recover from a Ransomware attack.
3 Key Takeaways/Learning Objectives
Anatomy of a Ransomware Attack: The Applied Software Story

The Ransomware Threat Landscape

Our Saving Grace: Panzura's Global File System