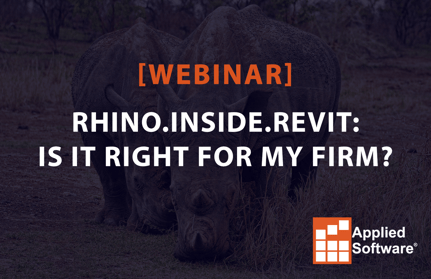 Wednesday, September 30 | 3:00 pm ET
Guest speaker Marcello Sgambelluri will be discussing the exciting new technology Rhino.Inside that has been making waves in the AEC industry over the last year. Rhino.Inside.Revit offers game-changing new workflows in Revit, however it is important to understand the way it works and challenges around this application. Marcello has been an early leader in testing and implementing Rhino.Inside and will share his knowledge and experiences around the tool in this webinar.
Rhino.Inside.Revit is a new add-in to Revit made by McNeel Associates, creator of Rhino3D. Rhino3D is an extremely powerful and easy to use free form surface modeling program. Rhino inside means that Rhino3D is installed as an add-in to Revit; hence Rhino.Inside.Revit. It also includes the visual programming tool Grasshopper.
Rhino.Inside.Revit allows for a seamless bi-directional workflow between Rhino, Grasshopper, and Revit so that elements and data can be quickly and easily manipulated concurrently in each program. The modeling tools of Rhino can create complex geometry and directly send it into Revit. Revit geometry can be modified directly in the Rhino environment to further customize and augment the design.
Marcello has worked on many technically advanced projects over the last 21 years as a project manager, design engineer, and BIM Director. Marcello is internationally recognized at one of the top leaders in AEC Technologies. ​​
Marcello continually speaks at Autodesk University and the Revit Technology Conference BILT where he has received the 1st place speaker award for a record 16 times between 2012 thru 2019 between both conferences. In addition, Marcello provides training and consulting the AEC industry. Marcello received his Bachelors and Master's degrees in Civil Engineering and he is also a licensed Civil and Structural Engineer.​