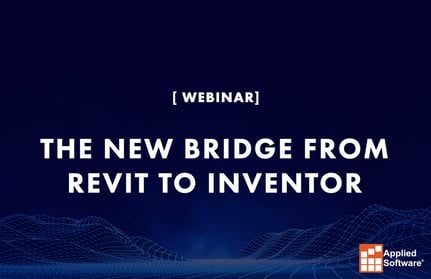 Tuesday, September 29 | 12:30 pm ET
The 2021 releases of Revit and Inventor have introduced a remarkable change in the interoperable connectivity of the two programs in conjunction with BIM 360. This has unlocked a highly effective new workflow that represents a paradigm shift in the way we can manage fabrication and product design in the building industry. Inventor can now live link Revit projects inside Inventor's modeling environment and reference geometry directly to these linked elements. As the Revit project is modified, these changes are automatically updated into Inventor, allowing referenced Inventor geometry to automatically update in tandem with the Revit model.
We invite you to join Applied Software's solutions experts Jason Miles and Anthony Zuefeldt as they go 'under the hood' to explore and explain this exciting new Inventor/Revit relationship.