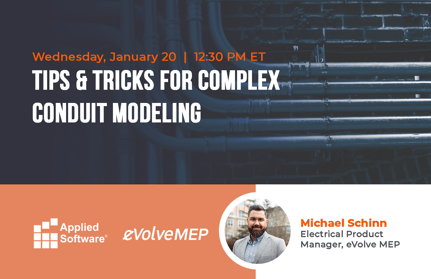 Wednesday, January 20 | 12:30 pm ET
First into the model = first to the egg. If you're struggling to efficiently model your electrical conduits, then you're probably falling behind in the coordination process, and you may be losing out on precious space.
In this session, we will go over tips and tricks for quickly modeling conduits in complex situations, and we'll also discuss how to utilize eVolve Electrical bend families and get the most out of them. Together, we will model a complex electrical room containing both underground and overhead conduits with hangers. Then, we'll coordinate large conduit racks out of the electrical room throughout a hospital building. Join the conversation to learn more!