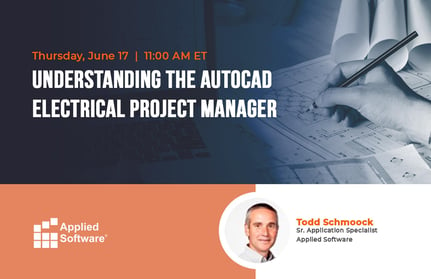 Thursday, June 17 | 11:00 AM ET
If you're familiar with AutoCAD Electrical, you know how important it is to understand the AutoCAD Electrical Project Manager. In fact, it can make or break your effectiveness and success. In standard AutoCAD, each drawing is a stand-alone file, but in AutoCAD Electrical, they're grouped together in a project. The project manager is used to keep track of projects and the drawings inside them.
Interested in learning more about this essential tool? Join Todd Schmoock for our upcoming webinar to find out everything you need to know about the AutoCAD Electrical Project Manager. See you there!