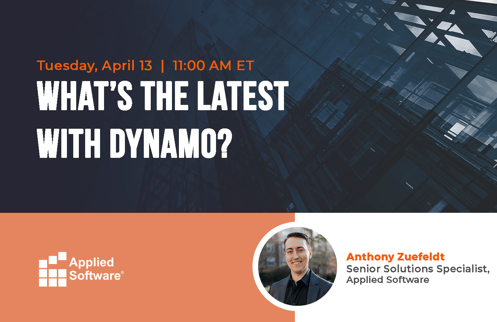 Tuesday, April 13 | 11:00 am ET
In the last year, Dynamo has experienced one of the most extensive updates in its history, with its dev team adding massive expansions in functionality and improvements to performance speeds, all while migrating from the Iron Python 2.7 engine to the CPython 3.8 engine. What does this all mean? What features should you be aware of? And what new opportunities will emerge in Dynamo as a result of these improvements?
Join Applied Software and resident Dynamo junkie Anthony Zuefeldt as we dive under the hood of Dynamo to answer some of these big questions and explore these exciting new developments! We'll be giving out three copies of Marcello Sgambelluri's new book* Dynamo and Grasshopper for Revit Cheat Sheet Reference Manual (a $75 value). These copies will only be available to those who attend the live webinar and are present during the drawing, so be sure to join us.
*Three winners will be chosen at random. Must attend webinar and be present during the drawing to be eligible to win.